Trip Adviser's 2018 Certificate of Excellence
October 05, 2018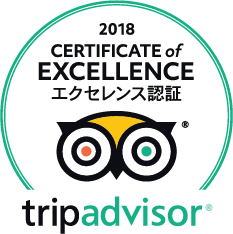 Yamato-no-yu has been awarded Trip Adviser's esteemed 2018 Certificate of Excellence.
We at Yamato-no-yu thank you, all of our customers, for your patronage which has led to such an honor.
The Certificate of Excellence "honors hospitality businesses that deliver consistently great service across the world". It is presented to facilities such as accommodations, sightseeing spots and attractions, and restaurants which offer excellent hospitality throughout the year.
Receiving this award has greatly encouraged us, and we will continue to do our best to offer excellent service to truly satisfy all of our customers.
We at Yamato-no-yu thank you from the bottom of our hearts, and we look forward to serving you again soon.