Pristine fresh spring mineral waters flow from the natural spring beneath Yamato no Yu
View the beautiful countryside and nature that spreads out in front of you
Relaxing your body, immersing yourself in the soothing spring waters, you can lose your sense of time and space

'Meisen' (Life Spring) is the perfect name for the tranquility and harmony you will experience
Content

Sodium – Chloride, Hydrogen Carbonate

Source Temperature

19 Degrees

Heated Temperature

41 Degrees

Recommended

Neuralgia, Muscle Aches, Arthralgia, Stiff Shoulders, Motor Weakness, Stiff Joints, Bruises, Sprains, Chronic Digestive Disorders, Hemorrhoids, Excessive Sensitivity to Cold, Convalescence, Relieving Fatigue, Health Enhancement, Cuts, Burns, a Weak Constitution, Chronic Gynecologic Disorders.

Not Recommended

Acute Diseases (especially people with high fevers), Active Tuberculosis, Malignancy, Cardiopathy, Respiratory Failure, Renal Failure, Hemorrhagic Disease, Serious Anemia, Other Advancing Diseases, Pregnancy (especially primary and end stages).
At Yamato no Yu, we draw more than 120 liters of hot water per minute directly from the source, and after heating it to just the right temperature, it pours from the spout as drawn. Bath water that overflows from edges of the bath is not reused. Fresh hot water is always being supplied to bath to keep it full. We have also installed a water circulation and filtration system that cleans the water in the bath and keeps it at the perfect temperature. There is no one word to describe this system, but the important points are summarized below.
After being warmed to just the right temperature, hot water from the source flows directly into the bath.
Hot water that overflows from bath is disposed of, not reused.
Hot water in bath itself circulates through a water circulating filtration device, which maintains both the freshness and temperature of the onsen.

The hot spring water that flows freely directly underneath Yamato no Yu provides an ever-flowing stream of fresh spring mineral water. With a magnificent view of some of Japan's most exquisite rural scenery you will be left breathless with a sense of serenity and at one with nature.
Not only does our hot spring provide a natural scenario of tranquility and harmony, but has also been proven to help the human body's neural system and an effective treatment for the following ailments: Nerve tension, muscle pain, cuts, burns, and chronic gynecologic disorders.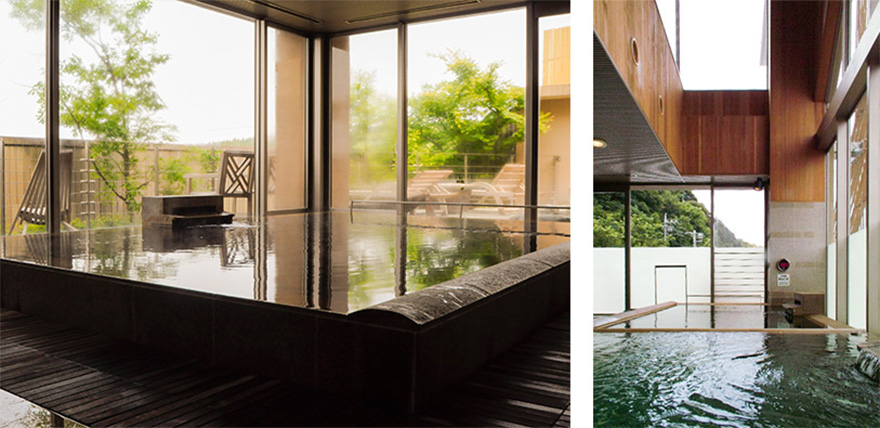 Naturally laid rock formations create an exhilarating atmosphere that captivates some of the roots of the Japanese precision for detail and mastery of presentation. The open-air environment creates an atmosphere that you can reach out and touch. Feel at one with nature in this enchanting environment from day to night; experience the colors of your surroundings seamlessly transform captivating a spectacular visual display. The natural surroundings of the trees and wildlife will add to the flavor of this unforgettable experience and will awaken the senses.
There are a total of 8 open-air baths that vary in both size and form, including wooden tub baths, and Jacuzzi's.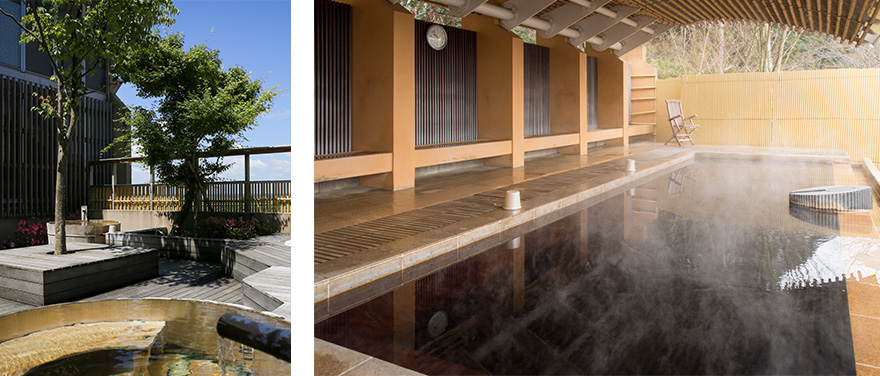 With only 3 exclusive rooms available, escape to this timeless place of comfort and serenity enjoying nature in the comfort of your own privacy. Enjoy the natural sensation of an open-air environment surrounded by a scenic view of some of Japan's most beautiful countryside. Finally, retire to your private room and indulge in the tastes of Japanese cuisine and traditional foods.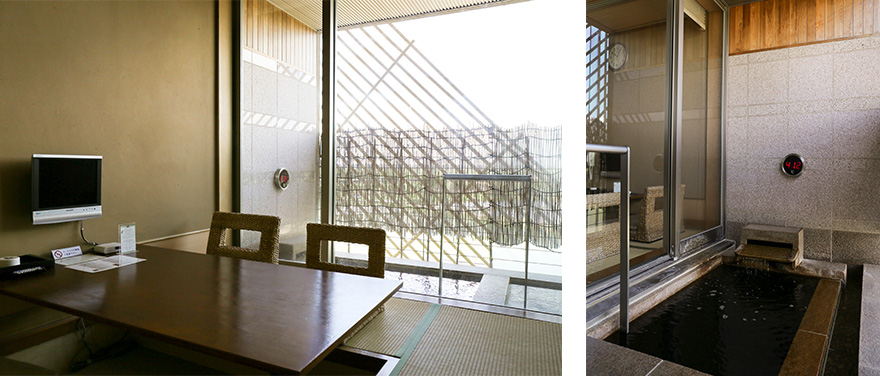 Our sauna not only creates a comforting and relaxing environment, but it also helps to rejuvenate your body and purifies you of any toxins your body may contain. Exclusive to Yamato no Yu, our sauna uses dry air that helps to create a pleasant environment and extrude the sweat from your body, which will leave you with the sensation of soft smooth skin.
Our sauna also provides a shower area and cold water bath to help revitalize your body.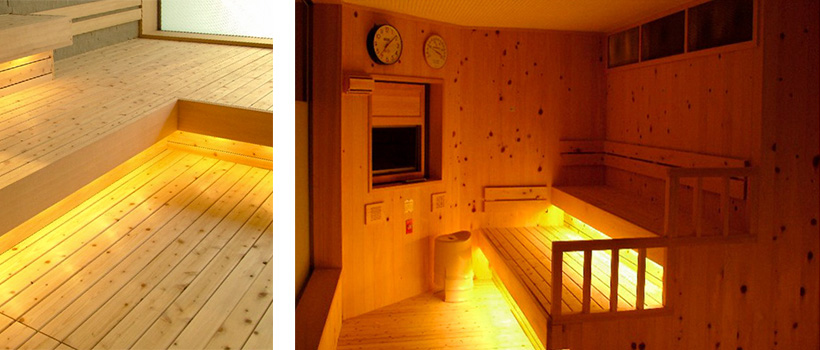 Feel the sense of gradual relaxation and healing progression in this exhilarating and unique experience. The Radiant bathing area is designed to maintain a temperature of 1 to 1.5 degrees above your body temperature. With access to the underground mineral spring, the floor, walls, and beds are naturally heated. After bathing in the spring, stretch out and relax on one of our reclining chairs, adding an extra special touch to your comfort, allowing the natural hot spring to do the rest of the work.